Bang & Bonsomer acquires Eurogum
17.05.2021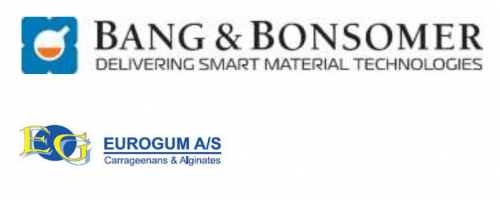 As of March 31 2021 Bang & Bonsomer has acquired all shares of Eurogum A/S in Denmark and Eurogum Polska Sp Zoo in Poland.
Eurogum is an independent Danish manufacturer of carrageenan and alginate based functional preparations to meat, dairy, pet food and other food industry applications. Constant product development, innovation and consistent quality control along with its proximity to markets and ability to satisfy customer needs, have been key parameters for Eurogum's success and growth.
Bang & Bonsomer is a material technology company and a distributor for a wide range of industrial raw materials and additives in Finland, Scandinavia, CIS-countries and the Baltic States. Bang & Bonsomer has six industry-oriented business units that specialize in sales and services for industry focused applications. In 2020 Group sales were 170 M€ and employees over 300.
The acquisition strengthens Bang & Bonsomer's position within various applications in food industry and particularly in R&D and sales of own products. It also enables the expansion of Eurogum sales further to Baltic states and CIS-countries and strengthens Bang & Bonsomer business platform in Scandinavia.
The acquisition will strengthen EUROGUM's market approach in the future and the high level of services, quality of products, short delivery times will continue. Crucial parameters like flexibility and customer focus will remain in the new ownership of Bang & Bonsomer.
All the personnel of Eurogum, except the former owner Mikael Eriksen, will continue their employment in Bang & Bonsomer. Eurogum A/S and Eurogum Polska sp. z o.o. o will be merged to Bang & Bonsomer Group.
Helsinki, 14th of April 2021
Mikko Teittinen
CEO, Bang & Bonsomer
Mikael Eriksen
Owner, Eurogum
For further information please contact: www.bangbonsomer.com
Bang & Bonsomer Group, Fooding Business Unit Director Ernestas Mitkus, ernestas.mitkus@bangbonsomer.com
Eurogum A/S, Henri Christensen hc@eurogum.dk

Źrodlo i fot.: Eurogum